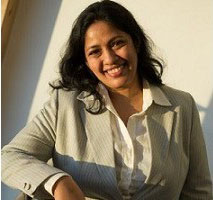 Lakshini Kurukulasooriya
Lakshini has an MBA from Durham University Business School UK and a Professional Postgraduate Diploma in Marketing from The Chartered Institute of Marketing UK. She is a Chartered Marketer and a Member of CIM UK, MSLIM and MIM(SL). With more than 13 years of progressive corporate experience in the Asian business context and overseas cross cultural exposure, she is capable of understanding the changing dynamics of the corporate world.
Her areas of expertise include Marketing Strategy, Market Entry/Development, Organisational Design, Market Research and Management Competency Development. Lakshini's current assignment as a consultant involves facilitating corporates to identify their people profiles and their competencies based on the core values of the organisation. This involves 9-Box Talent Identification and Classification, On-boarding and conducting Assessment Center activities and Competency development initiatives.
She is seeking to further develop her experience in the areas of corporate strategy and consultancy to provide strategic business solutions at all levels of business. Her passion is to use her marketing and management expertise and the Durham MBA exposure to explore and develop strategic business and client relationships globally through multi-dimensional perspectives. Lakshini is also involved in an in-depth research on women entrepreneurship in the emerging economies through comparative research and insights to uplift the entrepreneurial women in diverse cultures.